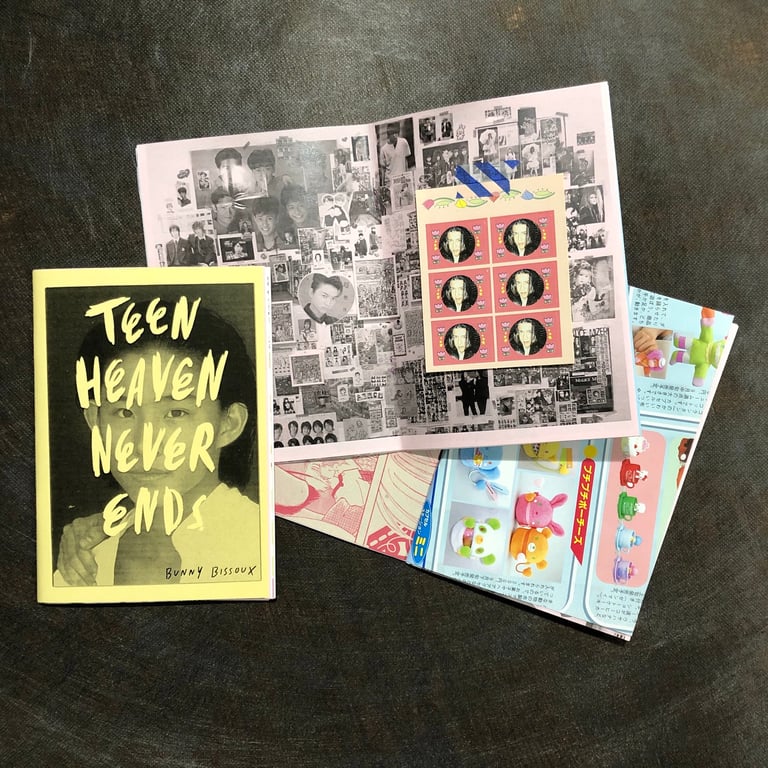 'TEEN HEAVEN NEVER ENDS' ZINE - BUNNY BISSOUX
■ BUNNY BISSOUX 'TEEN HEAVEN NEVER ENDS' ZINE
■ original illustrations, sketches, photographs, ephemera and more based on the work and wall installation exhibitted at 'HARAJUKU' exhibition (Galerie Le Monde, Tokyo 2016)
■ Based on the theme of Harajuku youth culture, teenage fanaticism, J-pop idols, visual kei and more from the 80s to early 2000s.
■ each zine contains original magazine and comic book pages which will vary.
■ 2019 FIFTH PRINTING, REVISED EDITION, limited and numbered out of 100.
■ 48 PAGES, A6 SIZE, INCLUDES 16 full color pages, 16 b/w pages on pink paper, 16 unique and original magazine pages. pin up sticker on centre page will vary.
■ cover is yellow or blue. you will be sent one at random.
■ 懐かしHARAJUKUのテーマ, ジャニーズ、アイドル、ヴィジュアル系など
■ 48ページ / サイズ: A6
■ Pictures show an example. 写真は一例を示している。